Inexplicable (so far) ... and sad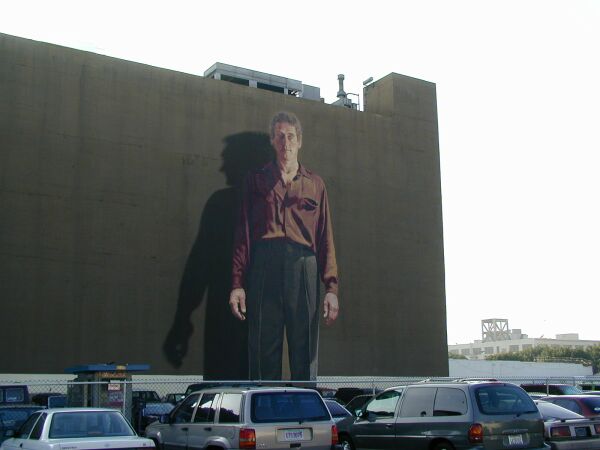 According to a LA Times article this morning Popular 'Ed Ruscha' Mural Abruptly Painted Over:
Without apparent warning, an iconic mural by artist Kent Twitchell depicting fellow artist Ed Ruscha was painted over Friday, a move Twitchell described as a shock and a violation of laws protecting works of art.

By Friday afternoon, "Ed Ruscha Monument" near the intersection of South Hill Street and Olympic Boulevard had been painted over, but it could not be determined who had ordered the painting or why.

…

The artist said he was alerted by conservationist Nathan Zakheim, who had been in the early stages of restoring the work and had gone by to see it Friday morning. "I went to get more pictures and take samples," Zakheim said, "and guess what: It was completely painted out."

Zakheim said the piece is nearly unrecoverable.

"Once it's painted over, it's almost impossible to get the paint off," said Zakheim, who has helped restore numerous Southern California murals. "The mural will have to be 80% repainted."
Twitchell's photo-realistic murals are all over LA, and this one was my favorite. (And its not the first one that has suffered such ignominy ... see the Times article for more.) I've driven out of my way when downtown many times to see it and once, many years ago spent a few hours photographing it. Reading of the mural's destruction this morning made me feel sick.
(Image credit from this site which has photos of many of Twitchell's murals.)
I'll post an update if anything comes up which explains why this happened.